REFORMER
The Reformer is the most popular piece of equipment in the Pilates world. It is a very versatile apparatus allowing a wide range of progressive resistance training to help develop proper alignment, core strength, coordination and flexibility. The movements performed on the reformer range from fundamental to extremely advanced. Evolve your technique from fundamental to advanced levels while you build strength, flexibility and body awareness working on the Pilates repertoire.
WUNDA CHAIR
This class provides a great workout. You will develop balance, strength, mobility and confidence in your body. The chair is an upright version of the Reformer. This means elevation changes, balance, working sideways, upside down and standing, being more engaged with the spring. A practical understanding of the Pilates fundamentals is a prerequisite for this class.
STUDIO TIME
This is the time you come in to the Studio and practice your individual program using any of the Studio equipment at your own pace. One teacher is dedicated to a maximum of 5 students allowing the best format to correct alignment and movements. Students become more engaged mentally with their bodies as they make lasting changes and take charge of their own well-being. The Specialized Package or a minimum of 5 Private Pilates Personal Training sessions are required as a prerequisite to allow the teacher to develop an individualized Program for you to follow at Studio Time classes.
MIXED PROPS
This class will give students an experience of the classical Mat repertoire with it's full flowing continuous expression. Develop proper alignment, core strength and flexibility through well-thought-out structure and sequence of movements. Add more challenge and variety using other props and small apparatus such as the Spine Corrector, the Magic Circle, the Foam Roller, the Tensor Bands, and more.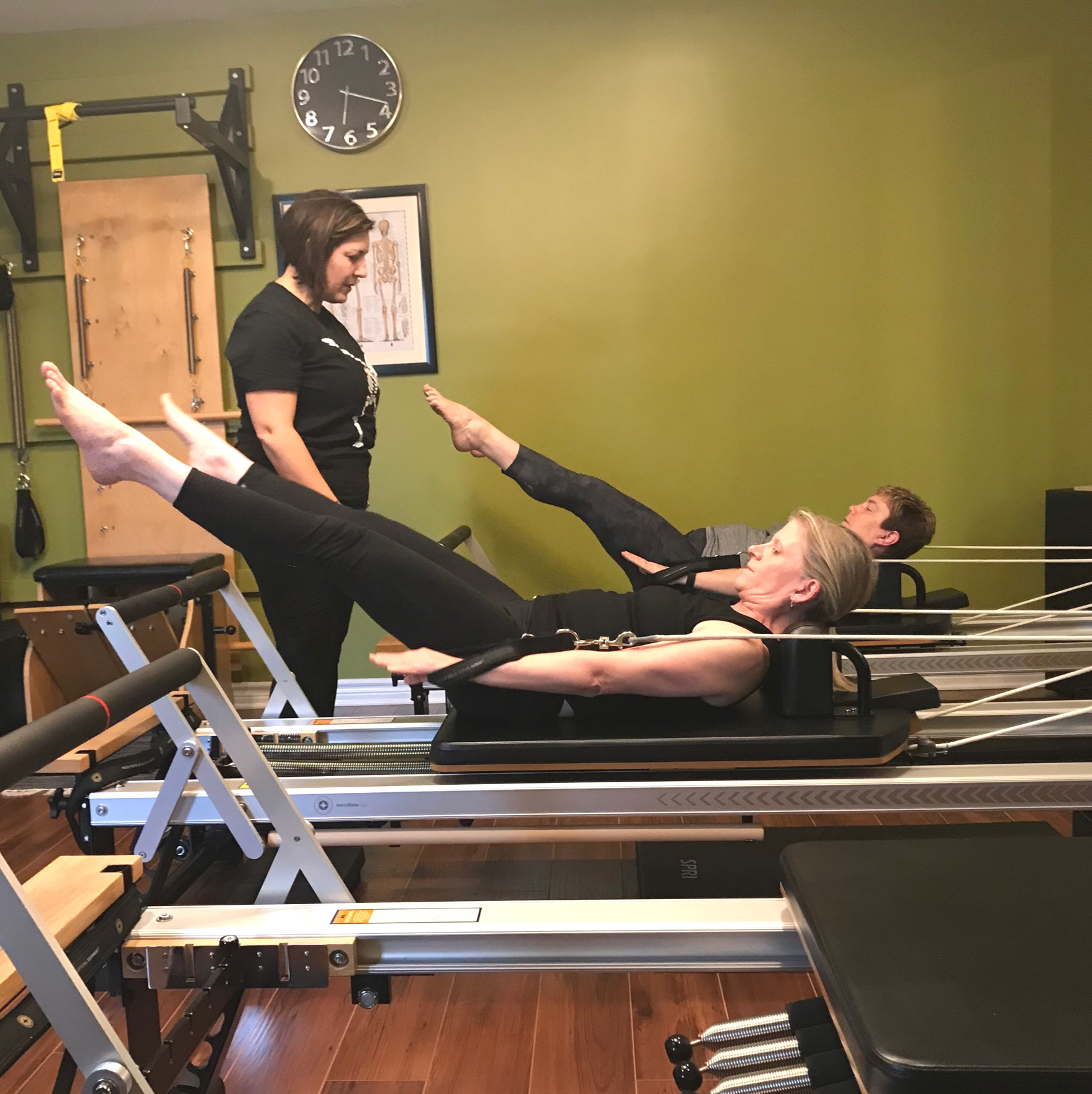 REFORMER PLUS MIX
Within this class, you will experience the Pilates repertoire on a combination of the Reformer, in addition to either the Wunda Chair, Spine Corrector, Mat, Wall, TRX, etc. Mix it all up and keep it exciting and challenging!
PILATES ON THE TRX
This class adds challenge and thrill to your regular Pilates workout. Doing Pilates using the TRX suspension system helps develop strength, balance, flexibility and core stability by using gravity and body weight to build resistance. Open to all levels.
PILATES ON THE WALL
Build a strong core while targeting individual muscle groups and adding challenge and variety to your regular workout using a new piece of equipment that is like a mini Cadillac with arm and leg springs and Roll Up Bar.
CARDIO REFORMER ON THE REBOUNDER
Rebounding is 68% more effective for fat burning and cardiovascular training than running (NASA study, 1980). Ten minutes bouncing on the Rebounder has been proven to be equivalent to thirty-to-forty minutes running. Rebounding is a low-impact workout that is effective for joint and bone health, pelvic floor strengthening, digestion, balance, posture and above all for releasing negative energy. It is highly effective in lymphatic drainage and releasing toxins, thereby strengthening the immune system.
Experience Interval Training, alternating between the mini rebounder and core Reformer work, for the most effective cardio, core strengthening and fun workout. Decide to bounce gently or jump high, this class is open to everyone.
TOWEL MAGIC
Combine the magic of two of the most innovative Pilates apparatus, the braided Towel and the Magic Circle, for full body conditioning that would open your chest, stabilize your shoulder and hip joints, and increase your range of motion. Open to all levels.
THERAPEUTIC STRETCHING, FOAM ROLLING & SPINAL DECOMPRESSION
Treat yourself after a long hard-working week. Learn stretching and fascia release techniques using foam rollers, Franklin Method balls, and other props, in addition to ELDOA Spinal Decompression stretching techniques.
Release back, hips, neck and shoulders tension and feel rejuvenated and free to move without pain.